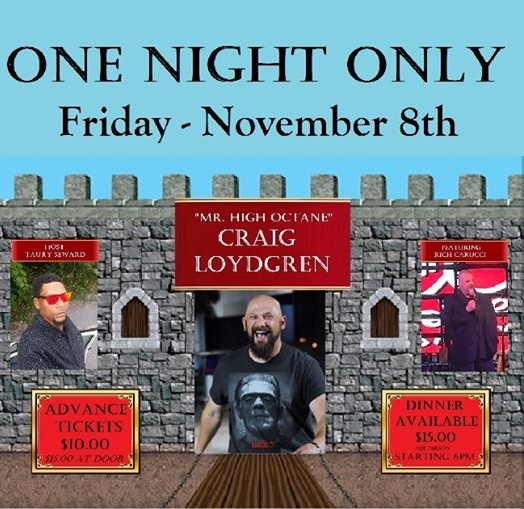 Host Taury Seward hails from Westchester County & now calls Binghamton his home. This rising talent has become a regional favorite, and is the winner of Rochester's 'Who's Got Next' as well as Syracuse's 'Comedy & Chill' and 'Battle of the Bozos'.
Feature Rich Carucci has been featured in the New York Post, seen on MLB.com, host of Kaufman Films "Insult Cab", and a popular presence in the New Jersey & New York City comedy scene.
Headliner "Mr. High Octane", Craig Loydgren with his high energy & delivery is known from The Artie Lange Show, appeared in the adventure-fantasy film "Abnormal Attraction", and has released his 1-Hour Comedy Special "Married & Miserable" on Amazon Prime.
…will be hitting the stage at Castle on the Delaware in Walton, NY on Friday November 8th, 9pm to 11:30pm.
$10 cover charge for the Show only. Roast Beef Dinner Buffet and Show is $25 and includes tax and gratuity.
Buy Tickets Online:
The deadline to purchase tickets online for the Comedy Show with Taury Seward, Rich Carucci, and Craig Loydgren on Fri, November 8th, 2019 has passed. Tickets may still be purchased at the door for $15 each, space permitting.