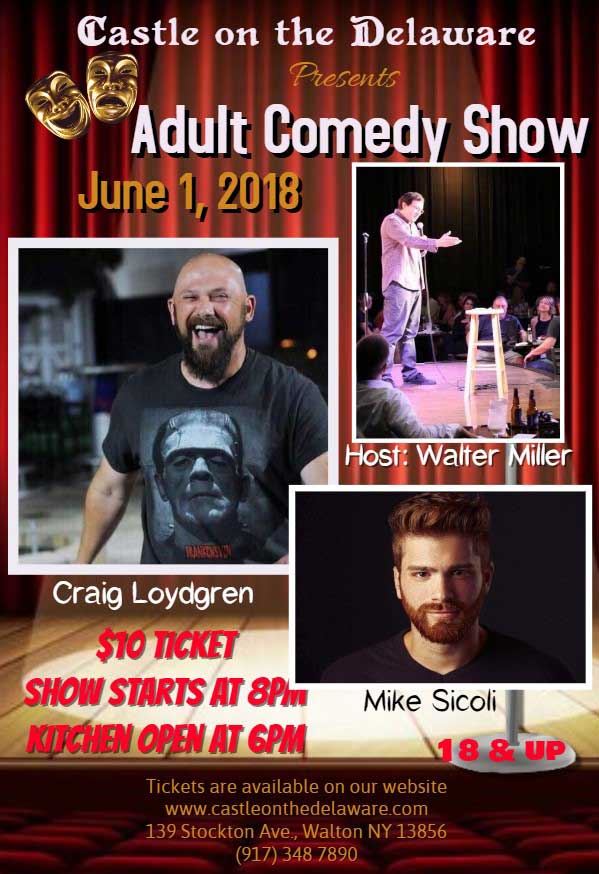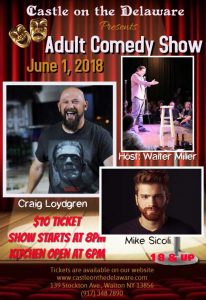 The Castle On The Delaware will host an Adult Comedy Show with 3 famous and funny comics on Saturday June 1st at 8pm. Buy tickets online on our website to reserve your seats upfront or purchase tickets at the door. $10/Ticket. Foods and drinks will be available for purchase starting at 6pm. Because we build our menu around the freshest ingredients available that particular week, it will be announced a few days prior to the event.
Mike Sicoli– Feature
-feature in theChive
-featured on elite daily
Headliner- Craig Loydgren
-Appears on NYC Crime Report/Artie Lange podcast
-Film/ Abnormal Attraction
-1 hour Special Married And Miserable
Host- Walter Miller
-Dark Humor is a specialty for Walter Miller, a Syracuse comedian with a knack for one liners and drawing discomfort from the crowd. Miller performs regularly across Central New York and Pennsylvania. He's a Utica Brews Laugh Contest winner and participated in the Matty B's Roast Battle series.
Buy Tickets for the Comedy Show Online: