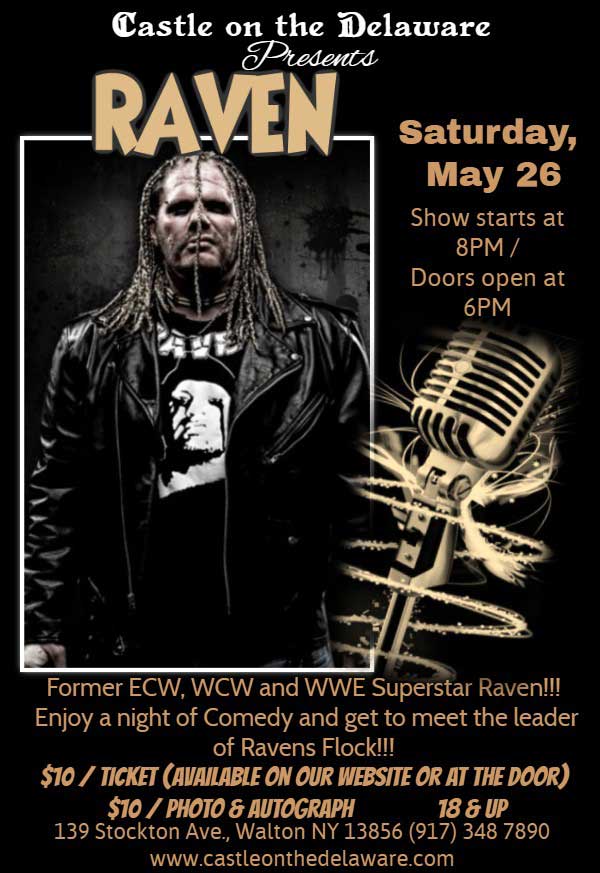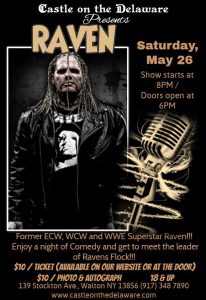 The Castle on the Delaware will present to you former ECW, WCW & WWE Superstar Raven Saturday May 26th with 3 more famous and funny comics at 8pm. Buy tickets online on our website to reserve your seats upfront or purchase tickets at the door. $10/ticket. $10 for photo and autograph. Foods and drinks will be available for purchase starting at 6pm. Because we build our menu around the freshest ingredients available that particular week, it will be announced a few days prior to the event.
Raven will do 45 Minutes of Comedy and 45 Minutes of Question and Answers.
Enjoy a night of Comedy and get to meet the leader of Ravens Flock!!!
Host- Walter Miller
-Dark Humor is a specialty for Walter Miller, a Syracuse comedian with a knack for one liners and drawing discomfort from the crowd. Miller performs regularly across Central New York and Pennsylvania. He's a Utica Brews Laugh Contest winner and participated in the Matty B's Roast Battle series. Walter Miller performed up and down the coast, as well as Walton's own The Castle.
Feature: Brain Lee Yox..who has performed in and around the New York Area
Feature: Mike Elliot..an up and coming comedian who has performed in the Pittsburgh and New York area…
Buy Tickets for Raven the Wrestler Online: