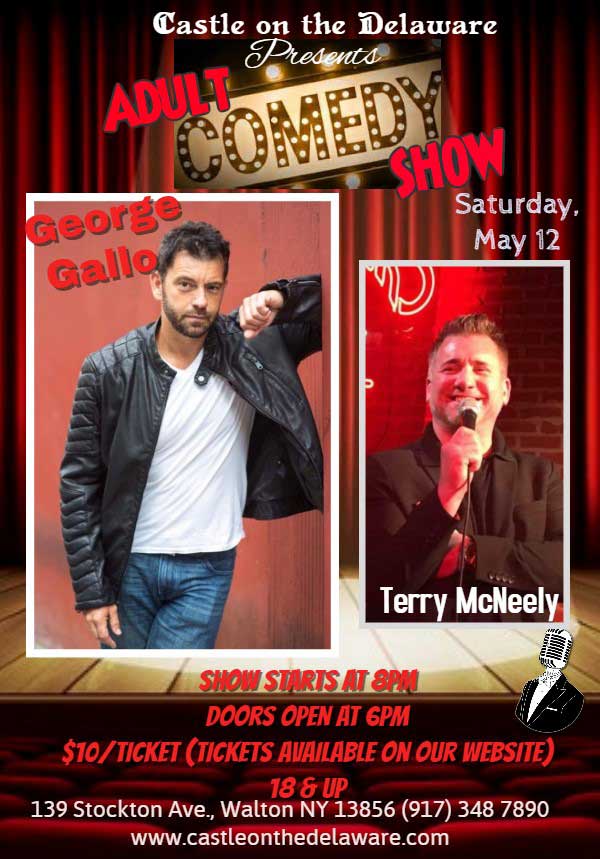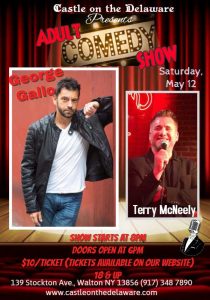 George Gallo and Terry McNeely two extraordinarily funny comics will hit the Castle stage Saturday May 12th at 8pm. Buy tickets online on our website to reserve your seats upfront or purchase tickets at the door. $10/ticket. Foods and drinks will be available for purchase starting at 6pm. Because we build our menu around the freshest ingredients available that particular week, it will be announced a few days prior to the event.
George Gallo: Comedy Central, FOX News "Watters World", NBC "Last Comic Standing", Millions of views on FaceBook "Sore Loser, Sore Loser video"
Both acts deliver a high energy, edgy in your face delivery with a no holds barred approach. Feelings may be hurt but the truth and risk in subject matter is something missing in the landscape of today's world of stand-up comedy.
George has TV appearances on shows such as:
(NBC) The Apprentice, (NBC) Last Comic Standing, (A&E) Evening at The Improv, (A&E) Caroline's Comedy Hour and (AXS) LIVE at Gotham Comedy Club to name a few.
Terry McNeely has been seen on TV shows such as:
(FOX) The Following, (FOX) Gotham, (HBO) Boardwalk Empire and commercials on Comedy Central
Below is a synopsis:
From Long Island, NY comes a fearless convicting duo of mayhem and comedy. The high energy acts of George Gallo and Terry McNeely deliver and dissect today's culture with dignity and a blunt edge. Raised in the 1980's in a world that hit their kids and played records backwards for hidden messages, these guys show audiences the world as it WAS and as it should BE. From the stand point of a guy with plenty of VICES and a guy with many VOICES strap yourselves in for a night of unique, unbridled stand-up comedy.
Buy Tickets for the Comedy Show Online: