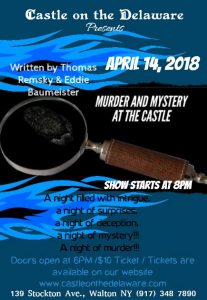 The Castle on the Delaware will host a Murder Mystery Show on Saturday April 14th. This show was especially written for this event by Thomas Remsky and Eddie Baumeister and contains a lot of twist & turns and surprises. Show starts at 8pm. Buy tickets online on our website to reserve your seats upfront or purchase tickets at the door. $10/ticket. Family discount; children under the age of 18 are free with an adult. Foods and drinks will be available for purchase starting at 6pm. Because we build our menu around the freshest ingredients available that particular week, it will be announced a few days prior to the event.
Buy Tickets for Murder and Mystery Online:
The deadline to purchase tickets online for Murder and Mystery at the Castle on April 14th has passed. Tickets may still be purchased at the door for $10 each, space permitting.