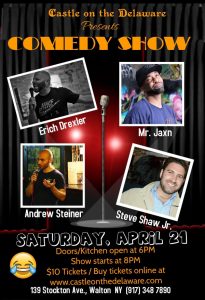 Comedy Show with four hilariously funny comics Saturday April 21st 8pm to 10.30pm at the Castle on the Delaware. Kitchen opens at 6pm. The special menu for this event will be advertised around 5 days before the show. Buy tickets online (below) to reserve your seat or call us now at 917-331-7670 to reserve your seat upfront. A DJ party (3 DJ's, 10.30pm to 3am) follows the comedy show and everyone is invited to join the party.
Erich Drexler is from Scranton PA and a regular host of the Open Mic Circus at The Keys. One of the founders of StreetKar Comedy out of Scranton, He is a high energy come mic mixed with an angry filter and colorful language. Together, they energize any room he performs in. He will perform for food. Huge Bruce Willis fan.
twitter.com/drunkmonkeydrex
facebook.com/erich.drexler
Steve Shaw – Growing up in Elmira,NY during the 1980's and 1990's, Steve Shaw got his first taste of performing by impersonating other people on prank phone calls with junior high & high school friends . Steve first gained notoriety on the Broadway Comedy Club Podcast, Far Out Podcast, Original Kings of Podcasting, & Low Budget FM (2009-present) doing voice over work for several characters. In 2012, Steve first got on a stage New York City and has since been performing stand up comedy regularly in the Clayton Fletcher Show at the Greenwich Village Comedy Club. Steve has performed at comedy clubs in New York City (Dangerfield's, Broadway Comedy Club,Greenwich Village Comedy Club) as well as Los Angeles, Las Vegas, Miami , Boston, & Washington, DC . Influences include: The Jerky Boys, Jonathon Winters, Jerry Seinfeld, Adam Sandler, Chris Farley, David Spade, & "The State" Sketch Comedy Show on MTV
Andrew Steiner is the host of The Weirdball Podcast. He performs regularly at New York Comedy Club, Laugh It Up, and Instagram (@andrewbsteiner).
His site is weirdball.com
Buy Tickets for the Comedy Show Online:
The deadline to purchase tickets online for the Comedy Show on April 21st has passed. Tickets may still be purchased at the door for $10 each, space permitting.