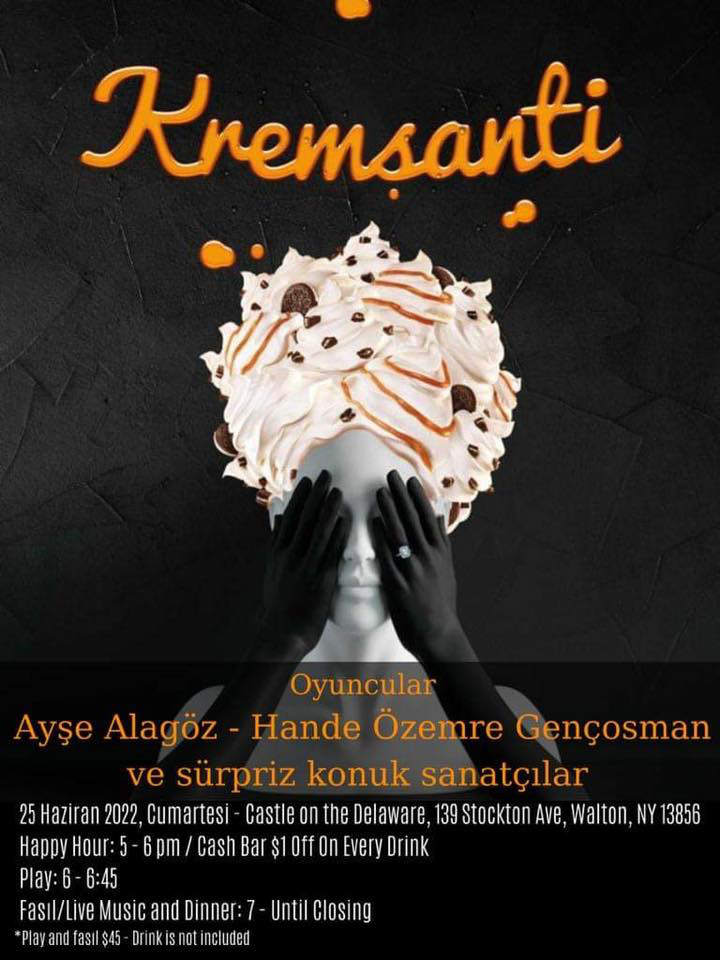 Castle on the Delaware located in the beautiful village of Walton, NY is proud to welcome "KREMŞANTİ" TURKISH NIGHT, an Interactive Show, Dinner & Dance on SATURDAY, June 25th from 5 PM to CLOSING. Organized by Elif Onural.
"Gelin Krem Şanti tadinda bir eglence yaşayalim." Komedi, Muzik, Lezzet ve Içki hepsi birarada! Krem Şanti isimli oyunumuzda… Eğlencenin tadında bulusalim!
Menu will consist of assorted appetizers; Hummus, Babaganush served with Turkish Pitta Bread, Cacık (Yogurt, Cucumber, Dill Dip), Mücver Zucchini Fritters, Falafel, Shepherd Salad, Feta Cheese and Turkish Olives, Spinach Börek (Pie), Beef and Lamb Köfte Kebap, Turkish Pilav Rice, Honeydew Melon, Walnut Baklava, Coffee/Tea.
Dinner and Show $45 (incl. tax) per person.
5 PM to 6 PM Happy Hour. $1 off any drink.
6 PM to 6:45 PM Interactive Play
7 PM to CLOSING Dinner and Dance. Fasıl led by Ali Kâhya, Surprise Guests. Don't miss this fun night of Interactive Play, Turkish Music, Food, Drink and Dance.
Buy Tickets Online
Online sales for Turkish Nigh on Saturday, June 25th have ended. You can still buy tickets at the door for $45, space permitting.