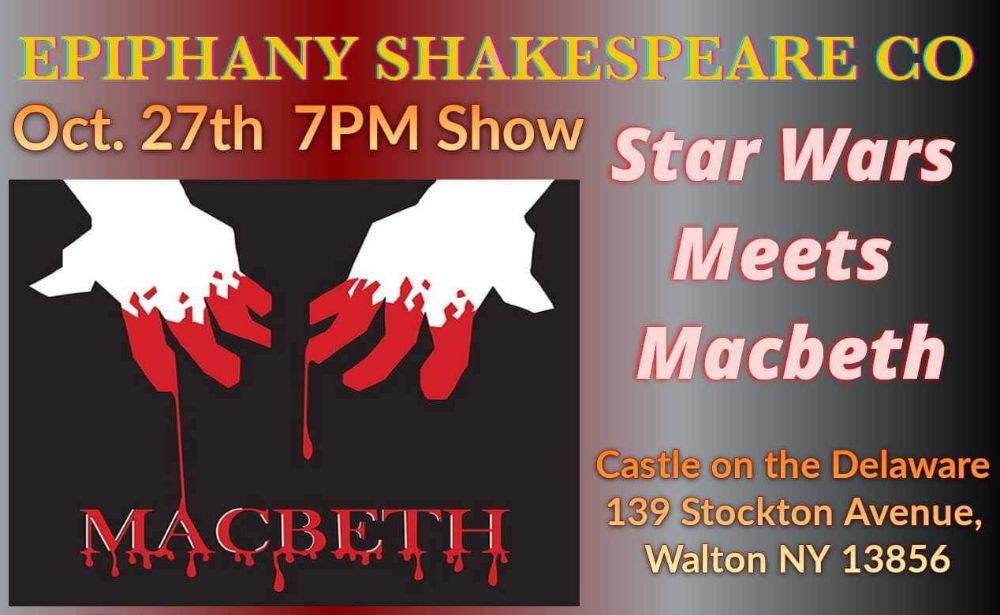 Castle on the Delaware is proud to present the Epiphany Shakespeare Cooperation with their new play; MACBETH on FRIDAY, OCTOBER 27th from 7 PM to 10 PM. It's fun evening for the whole family; ticket price includes the play, the AYCE (All You Can Eat) Open Buffet, Sales Tax and Gratuity and is $35 per person.
AYCE ALL VEGETARIAN MENU:
Garden Salad w. Italian Dressing
Fried Falafel Balls with Tahini Sauce
Zucchini Fritters with Cacik Sauce
Vegan Stuffed Peppers
Salt Potatoes
Walnut Baklava
Coffee/Tea
Experience Shakespeare's haunting masterpiece reimagined as a bloody space opera set "a long time ago in a galaxy far, far away! Witness a legendary Jedi knight's fall to the dark side, becoming the Dark Lord Macbeth! Aided by his scheming Sith wife, three creepy witches, and surrounded by a cast of your favorite Star Wars characters as you've never seen them before! Come see Luke, Han, Yoda, Chewbacca and more transported into Shakespeare's scariest play! Featuring Award Winning Makeup & Special Effects that will chill you to the bone and epic lightsaber duels that will have you jumping out of your seat! Just in time for Halloween Season, this is Macbeth: Galaxy of Blood!
All tickets include a buffet dinner! Cash Bar Available!
Buy Tickets Online
"*" indicates required fields