Saturday, August 4 at 8:00 PM – 11:00 PM EDT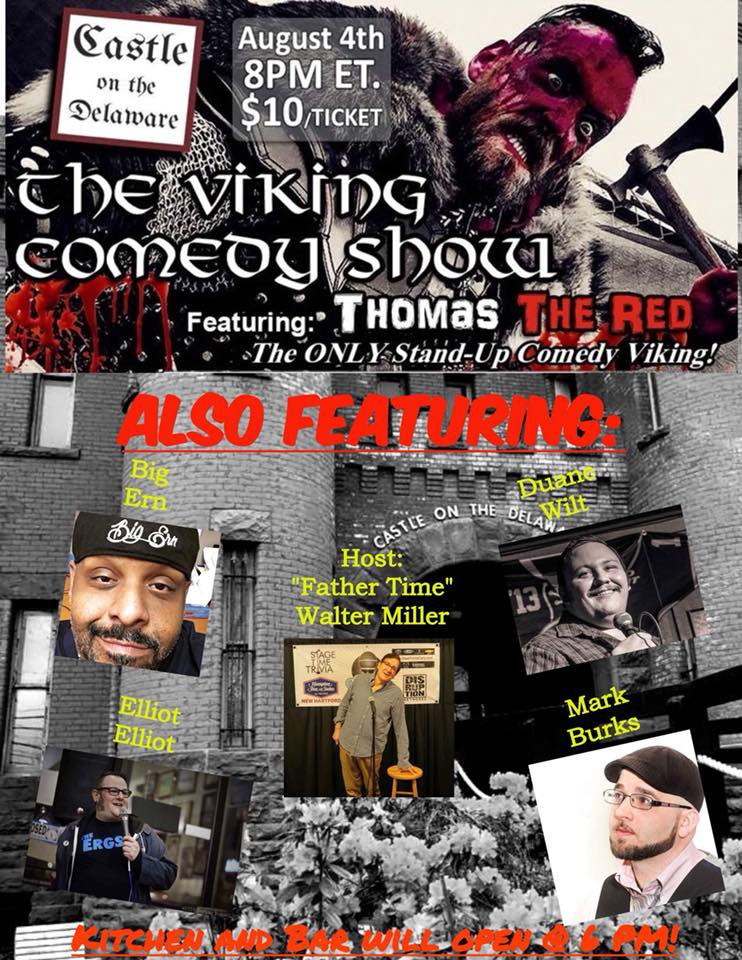 *****THE VIKING COMEDY SHOW TONS OF AMAZING COMICS WILL HIT THE CASTLE STAGE SATURDAY AUGUST 4TH AT 8PM. BUY TICKETS ONLINE ON OUR WEBSITE TO RESERVE YOUR SEATS UPFRONT OR PURCHASE TICKETS AT THE DOOR. $10/TICKET. FOODS AND DRINKS WILL BE AVAILABLE FOR PURCHASE STARTING AT 6PM.*****
Host- Walter Miller
-Dark Humor is a specialty for Walter Miller, a Syracuse comedian with a knack for one liners and drawing discomfort from the crowd. Miller performs regularly across Central New York and Pennsylvania. He's a Utica Brews Laugh Contest winner and participated in the Matty B's Roast Battle series.
Originally from Newport News, Virginia and now based out of Rochester, NY Mark Burks has worked up and down the east coast sharing his true-to-life humor with audiences of all kinds. Mark is known best for his roles in the not for profit, Combat Comedians, where he is an instructor and a performer, and opening for television, movie and radio well-knowns. He's the funniest person you'll ever forget.
Ernesto "Big Ern" Galano is a staple in the Binghamton Comedy Scene Bringing his Raw Bronx N.Y. Attitude to the stage to keep you laughing.
He has been doing comedy for nearly 7years and has a passion and natural talent for comedy. He is founder, creator and producer of "Big Ern's Round Table Of Comedy", a local production company dedicated to Raising Funds And Awareness in the Community by supporting local Charities. His Motto "Help Those Who Can't Help Themselves"
If he's not personally making you laugh then he's putting the talent together in a show to make you laugh. Love, Life And laughter Is his goal!
From Canandaigua NY, Duane Wilt is a 7 year veteran in the field of stand up comedy with experience performing all over the northeast, including performing regularly at clubs in NYC. His first full length comedy album "Why are you laughing?" Is available on platforms worldwide including Spotify, Amazon, and iTunes. His comedic stylings will introduce you to his checkered past, and colorful family life, all while leaving you asking yourself "why am I laughing?"
Elliott Elliot is a comedian, soda drinker, fun haver and stuff doer from Scranton Pennsylvania. He's a music fan with no musical talent and is armed with a vast knowledge of pop culture He's performed stand up all over the place with all kinds of people, been in a few sketch shows.. He has appeared in the film The Family Business, and stars in the web series Creep City USA. Elliott believes that Quint from Jaws is the greatest character in any film ever!
Thomas The Red is a stand-up comedian, and actor from the Northeastern Pennsylvania area. He is known for mixing a Viking themed stage presence into his stand-up comedy performance; including authentic viking weaponry!
https://www.facebook.com/ttrcomedy/
---
Buy Tickets Online: