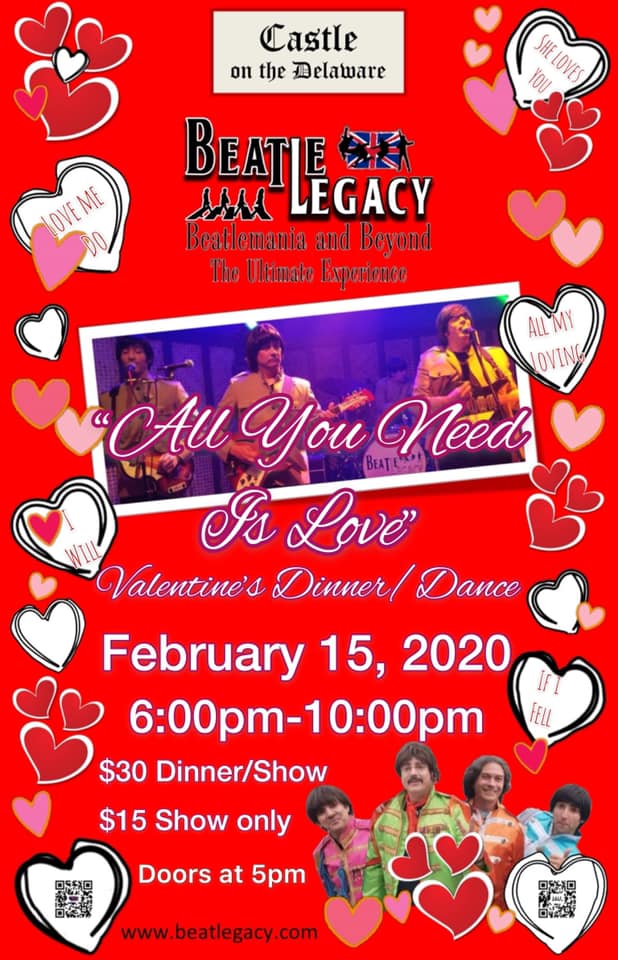 "All You Need Is Love" Valentines Day Dinner & Dance With BEATLEGACY at the Castle on the Delaware in Walton will take place on Saturday, 15th of February from 6pm to 10pm. English Style Buffet Dinner starts at 6pm and the BEATLEGACY Show with many costume changes starts at 7pm.
"BEATLEGACY – Beatlemania and Beyond/The Ultimate Experience" show is different from others in this genre, with talented musicians celebrating the music with a stunning visual and audio re-creation of all eras of The Beatles music …from the energetic leather clad pre-fame days, to Beatlemania, the Psychedelic Years, Let It Be, and the Solo years. Correct period Beatles costumes, instruments, and Liverpool accents are a detailed highlight of the performance….and a lot of audience participation."
Dinner and Show is $30 per person(including tax and gratuity), the Show by itself is $15 per person.
Buy Tickets Online: